With the Comptroller and Auditor General (CAG) joining the chorus against the Indian Railways' (IR's) flexi fare scheme, perhaps it is time to consider the auditor's second suggestion – that there be an all-round fare "rationalisation" to boost the finances of IR. How else can the country's largest transporter bridge the gap between actual earnings and the target set out at the beginning of the fiscal? Especially under the current cross-subsidisation model where freight earnings already subsidise passenger revenue. If incremental revenue from flexi fares also falls, the precarious financial condition of IR could likely worsen this fiscal.
Under the flexi scheme (which is in force in only premium trains, affecting less than 1% of the travelling public), fares rise by 10% on every slab of 10% seats filling up, but only to maximum 1.5 times the base fare. In a report tabled in Parliament last week, the CAG said that the current flexi scheme be tweaked to arrest the decline of passengers and that IR should consider rationalising fares across all types of trains. The CAG said there were 6.75 lakh fewer travellers between September 9, 2016, and July 31, 2017, year-on-year due to flexi fares but it also had to admit that earnings of the IR got a boost, with additional Rs 552 crore coming in during this period. An IR official said incremental earnings from flexi scheme would be over Rs 1,200 crore in 2017-18.
In its report, the CAG has suggested that IR should a) review and fine-tune the scheme to increase passengers b) consider reviewing the fare structure on the basis of demand and occupancy in different routes c) explore the possibility of rationalising the fare structure across all types of trains d) instead of allotting 90% seats/berths under flexi fare scheme, at least 50% seats/berths should be allotted for normal fare.
There has been enough pressure already on the railways to drop flexi fares, with MPs and train travellers continuing with their stiff opposition. So should the IR then follow CAG's second suggestion and take steps to increase fares across-the-board? The cost of carrying passengers has been increasing each year with no simultaneous increase in fares. It is well known that freight earnings continue to subsidise passenger earnings and in the absence of political will to raise passenger fares in an election year – whatever the CAG might say – flexi-fares are really the only option to generate additional revenue. The IR official quoted earlier said that loss on account of passenger fares (Railways' social obligation cost) for 2017-18 was over Rs 38,000 crore (from Rs 36,286.33 crore in 2015-16). IR spends 81 paise per passenger per km but gets only 48 paise through fares, a subsidy of almost 40%.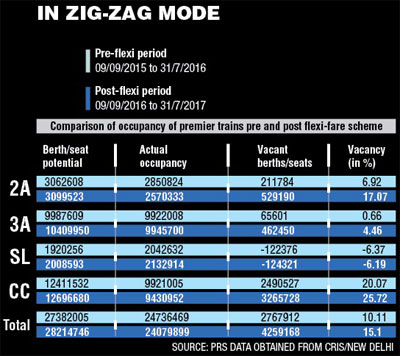 Flexi fares are crucial in the IR's scheme of things since its earnings target for 2018-19 is a steep Rs 2 lakh crore, up from about Rs 1.78 lakh crore achieved in 2017-18. This means it must generate an additional about Rs 22,000 crore this fiscal. Passenger revenue has been traditionally falling short of target and even if it were possible to generate Rs 10,000 crore additionally by loading more freight, achieving the overall revenue target still looks tough. In such a scenario, why would the IR ignore the additional Rs 1,200 crore that may come through flexi fares?
Besides, as a transport sector expert points out, some other measures could also be taken to improve its earnings. One is capping the passenger subsidy. He said if the current 40% subsidy is lowered to, say, 35%, there will be several crore rupees worth of earnings boost for the IR, far more than flexi earnings. Again, can this be done in an election year is the question, since raising fares is a touchy topic at the best of times.
Will Railways tweak flexi fare scheme to boost passenger revenue?
IR officials say the flexi scheme is here to stay and as a relief, reduction in some Shatabdi fares is already being done. Fares have been slashed by about 30% on the Mysore-Bangalore section of the Shatabdi which goes up to Chennai and train occupancy has improved. Similarly, on the Ajmer-Jaipur leg of the Delhi-Ajmer Shatabdi, only one in three seats were being filled and here again fares were slashed by a third.
There is a popular misconception that the flexi fare scheme is like the surge pricing in airlines. The IR does not increase fares based on how many people are trying to book a ticket. Also, it does not increase fares in most cases during festivals and seasonal rush, and there is a ceiling up to which it will raise fares. Besides, the IR offers multiple fares and time options for passengers wary of flexi fares, in other trains. So when the CAG talks of flight of rail passengers to aeroplanes, it is taking a limited point of view. The CAG said a comparison with airfares for 13 sectors showed that travelling in an aeroplane was cheaper on a large number of routes due to flexi fares on trains.
source: dnaindia