Eveready Industries plans to significantly scale up its long-underperforming tea retailing business, which has brands like Tez, Jaago and Premium Gold.
The group, which houses world's largest bulk tea producer McLeod Russel, plans to bring in a strategic investor and double the sales of its packet teas within the next three-four years, Amritanshu Khaitan, managing director, told DNA Money.
"The packet tea business is at Ebitda (Earnings before interest, tax, depreciation and amortization) breakeven level only because the economies of scale are not there. But we plan to double the turnover in the next three-four years (following induction of a new co-promoter). Automatically, it would add to profitability," he said.
Board of Eveready on Monday authorised Khaitan to explore ways to reorganise the packet tea business, including an option of transferring the business to a subsidiary and bringing in a strategic partner.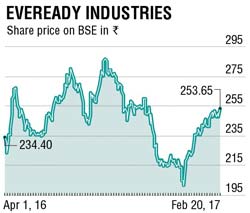 "Apart from Unilever and Tata Tea, there are no other national players in packet tea business. We already have bulk tea business under McLeod Russel, and so, we need to scale up the packet tea business. With this strategy in mind, we would be looking at inducting a strategic or a financial partner who can provide the required capital to scale up this business," he said after the Board meeting.
Eveready, henceforth, as a standalone company, would have all those businesses that carry the Eveready brand, and cash flow generated would be reinvested into these businesses only, particularly in lighting and appliances which are growing fast, he said.
Khaitan confirmed that the group would not be exiting the packet tea business but would only bring in an investor to scale up and strengthen operations.
"(Exiting the tea business) is not an option. As a group, we are so entrenched into the business of tea; while McLeod Russel has expertise in bulk tea, distribution and marketing sits with Eveready. We need to be part of the business always," he said.
Eveready has a diversified product portfolio spanning four products, with strong leadership in two key product segments: batteries with 52% market share, and flashlights with a 70% pie. It commands premium pricing driven by regular brand building exercises and vast distribution network reaching out to 3.2 million outlets unmatched by its peers.
But tea business, whose turnover has hovered around Rs 70-80 crore, has always remained at the fringes, and its brands together command market shares between just about 1–5% across various the country, lower than what the business enjoyed 5-6 years back.
"The packet tea business has not been performing satisfactorily and topline has remained constant. All that would change once funds are invested to grow the business, Khaitan said.