Special attention must be paid to contact tracing to prevent Corona infection
Special attention must be paid to contact tracing to prevent Corona infection Mapping of 13 lakh 67 thousand migrant labourers under Rozgar Setu Abhiyan CM Shri Chouhan reviews Corona situation and arrangements भोपाल : शनिवार, जून 6, 2020, 20:51 IST Chief Minister Shri Shivraj Singh Chouhan has said that the recovery


Special attention must be paid to contact tracing to prevent Corona infection

Mapping of 13 lakh 67 thousand migrant labourers under Rozgar Setu Abhiyan
CM Shri Chouhan reviews Corona situation and arrangements



भोपाल : शनिवार, जून 6, 2020, 20:51 IST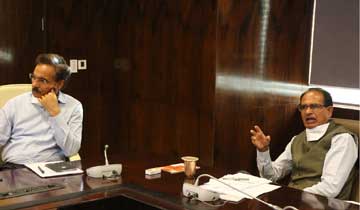 Chief Minister Shri Shivraj Singh Chouhan has said that the recovery rate of Corona in the state is constantly on the rise. Special attention should be paid to contact tracing to prevent Corona infection in the state. All / ILI patients should be surveyed and fever clinics must be strengthened. In any case, we have to stop the growth of Corona infection in the state.
Shri Chouhan said that so far 13 lakh 67 thousand migrant labourers of the state have been mapped under the Rozgar Setu Abhiyan to provide employment to migrant labourers and provide employment to skilled migrant labourers according to their skills. This includes migrant labourers and their families.
Chief Minister Shri Chouhan was reviewing the Corona situation and arrangements in the state today through video conferencing. Chief Secretary Shri Iqbal Singh Bains, Additional Chief Secretary Health Shri Mohammad Suleman, Principal Secretary Shri Sanjay Shukla were present on the occasion.
Do not delay in coming to the hospital
Chief Minister Shri Chouhan said that people need to be made aware that they should not hide about the disease, should come to the hospital and seek treatment immediately. Corona can be fatal if one delays visiting the hospital. During the review of Ratlam district, it was informed that 2 Corona patients could not be saved due to their late arrival to the hospital. It was reported that a person who sold Taveez (Amulet) to people for protection against Corona has tested positive in Ratlam. Instructions have been issued for tracing all his contacts.
CMHO of Rajgarh removed
It was found that out of 84 Corona patients, 51 were found to be active in a review of Bhind district. The recovery rate is good, but new cases are coming up. Chief Minister Shri Chouhan said that all measures should be taken to prevent infection. About 11 out of 20 patients are active in Rajgarh district. There have been 3 deaths. Instructions were given to remove Rajgarh CMHO.
State's recovery rate is 66.2 percent
Chief Minister Shri Chouhan said that the recovery rate of Corona in the state has risen to 66.2 percent, while the recovery rate of the country is 47.8 percent. The state's positivity rate is 4.68 percent, while that of the country is 5.24.
Procurement continues in Indore, Ujjain, Bhopal and Dewas
It was informed in the review of wheat procurement that procurement is going on at the procurement centres of Indore, Ujjain, Bhopal and Dewas. So far, more than 127 lakh MT wheat has been purchased from 15 lakh 70 thousand farmers.
More than double work in MNREGA compared to last year
ACS Shri Manoj Shrivastava informed that more than double the work has been given to the labourers under MNREGA this year as compared to last year. This year 24 lakh 95 thousand 962 labourers have been given work while last year 11 lakh 98 thousand labourers were given work in the same period.


Pankaj Mittal
From around the web