Rahul Gandhi or Priya Prakash Varrier? Twitter goes berserk after Congress President's wink in Lok Sabha
Rahul Gandhi was the talk of the town as he ended his explosive speech in the Lok Sabha on Friday by hugging Narendra Modi. After a no-holds barred and scathing criticism of Prime Minister Modi on several issues including Rafale jet deal, Congress President Gandhi walked across the green-carpeted well of Lok Sabha to Modi and hugged him, a gesture which
Rahul Gandhi was the talk of the town as he ended his explosive speech in the Lok Sabha on Friday by hugging Narendra Modi. After a no-holds barred and scathing criticism of Prime Minister Modi on several issues including Rafale jet deal, Congress President Gandhi walked across the green-carpeted well of Lok Sabha to Modi and hugged him, a gesture which took the Treasury Bench members by surprise.
It wasn't just the hug that caught people's attention, Gandhi was even caught on camera winking at his partymen with a broad smile on his face soon after ending his speech. Netizens were reminded of Priya Prakash Varrier, an 18-year-old Indian actress, who had shot to fame earlier this year for a wink she gave in a song from her movie.
Social media was flooded with memes of Gandhi and Varrier, showing the similarities in both their winks.
Rahul Gandhi's Priya Varrier moment after 'The Hug' #ModiTrustVote

187

75 people are talking about this
Twitter Ads info and privacy
For Rahul#NoConfidenceMotion time #NoConfidenceMotion

38

35 people are talking about this
Twitter Ads info and privacy
View image on Twitter
640

201 people are talking about this
Twitter Ads info and privacy
View image on Twitter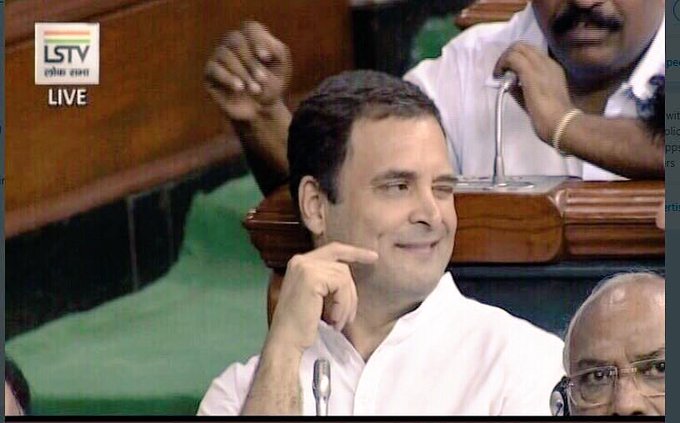 Tejashwi Yadav

@yadavtejashwi

Oh that wink my friend! Hit them hard where it hurts..Congratulations for unearthing their mines of lies & a fantastic speech @RahulGandhi

5,369

1,794 people are talking about this
Twitter Ads info and privacy
Oh boy, Rahul Gandhi can wink and that too better than Priya Varrier, hug better than Munna Bhai.
May be an Oscar is on cards!?!#Noconfidancemotion #RahulGandhi #NoTrustVote #RahulHugsModi

3

See Gautam Joshi's other Tweets
Twitter Ads info and privacy
Gandhi's unexpected gesture of hugging Modi, which quickly became a favoured video clip for television channels, came during a debate on no-confidence motion moved by the TDP against the Modi government. Gandhi's speech was frequently disrupted and prompting Speaker Sumitra Mahajan to adjourn the House for 15 minutes. When he resumed his speech, Gandhi continued his attack. Just before wrapping up, he strode over to Modi for the now-famous hug.
Modi initially looked nonplussed and did not stand up to hug him, but recovered quickly and called Gandhi back and patted him on the back. He also appeared to say a few words, which were inaudible. BJP MPs sitting behind Modi watched the brief interaction open-mouthed as the prime minister smiled at Gandhi as he walked back to his seat.
"This is what it means to be a Hindu," Gandhi said after coming back to his seat amid applause from his party members, including his mother Sonia Gandhi and other leaders present who heartily thumped their desks.
Sharply criticised for his reported remarks that "Congress is a Muslim party", Gandhi said, "Prime Minister Modi, BJP and …have taught me what it means to be a Congress person, the meaning of being a real Indian, and what it means to be a real Hindu. For this, I thank them." He also said his opponents may hate him, call him "Pappu" but he has no anger, hatred against the Prime Minister and the Bharatiya Janata Party.
This is likely the first time that an opposition leader has hugged the prime minister in the house, especially during a no-confidence motion. Akali Dal leader Harsimrat Kaur stood up and took objection to Gandhi's hug. Speaker Mahajan also gently reminded Gandhi that this was the country's legislature and not a place for such gestures.
source: dnaindia
From around the web