PM Modi arrives in Sweden: A look at India's ties with the Nordic country
In a first bi-lateral visit by an Indian premier to a Nordic nation in 30 years, Prime Minister Narendra Modi on Tuesday arrived in Stockholm, where he was received by his Swedish counterpart Stefan Lofven.
PM Modi's visit to the India-Nordic Summit is likely to strengthen ties with Sweden and increase bilateral trades between the two nations countries. He is on the first leg of his five-day tour which will also take him to the UK where he will attend the Commonwealth Heads of Government Meeting (CHOGM).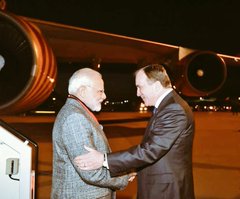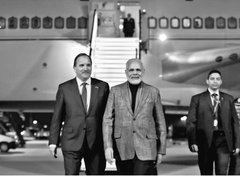 Here's a look at India-Sweden ties so far: 
The bilateral ties between India and Sweden go back to the 1940s. Several companies have engaged in trade leading to the establishment of bilateral trade of more than USD 2.2 billion as of 2016.
Indian ties with Sweden reached new heights after the then President of India visited Sweden in 2015, followed by the Swedish Prime Minister Stefan Löfven's visit to India in 2016 for the 'Make in India Week' in
Mumbai. Former Prime Minister Fredrik Reinfeldt also visited India in November 2009 for the India-EU Summit and bilateral talks.
Political ties
Several inter-governmental Agreements or MOUs in the areas including sustainable development, education, health, space, identified defence, infrastructure, urban development, education, S&T, environment, railways and energy has been signed between the two countries.
During former president Pranab Mukherjee's visit, six MOUs in important areas, including sustainable urban development; micro, small and medium enterprises; visa exemption for diplomatic passports; polar and ocean research; ageing and health; and pharmaceutical products and 15 agreements between educational institutions, were signed.
An India-Sweden Business Leaders Roundtable was created in February 2016 during the visit of the Swedish Prime Minister to India, with CII and Sweden-India Business Council as its coordinating agencies. The first Roundtable took place on 11 November 2016 in New Delhi.
Strategic and Defence Cooperation
Both the countries signed an MoU for defence cooperation in 2009, under which an India-Sweden Joint Working Group was established with a focus to promote 'Make in India' programme in defence sector and to identify more areas for cooperation in research and development for coproduction.
After visits of prominent defence heads from either countries, India and Sweden noted the scope for further enhancing bilateral defence cooperation to a higher level. The Swedish side expressed its willingness to work with India under 'Make in India' initiative and to pursue defence equipment cooperation.
Economic and Commercial relations
India is Sweden's 19th largest export market and third largest trade partner after China and Japan in Asia.
The main Swedish exports to India are pharmaceuticals, paper and pulp products, chemicals, engineering products and telecom equipment, while the main items of Indian exports are chemical products, food products, and semi manufactured and manufactured goods.
Indian companies such as Aditya Birla Group, Wipro and Bharat Forge are among the other major investors in Sweden. According to rough estimates, the cumulative Indian investment in Sweden is in the range of USD 700-800 million. Similary, Swedish companies including Atlas Copco, Sandvik, Alfa Laval, Volvo, Astra Zeneca, SAAB, have invested in India.
Cultural and Educational Relations
Indian music, dance, art, literature, films and cuisine are promoted in Sweden by local associations and the Embassy with the support of the Indian Council of Cultural Relations.
Several Swedish universities have established links with Indian educational institutions and regularly send students to India for different programmes. The establishment of Chairs on India Studies at major Swedish Universities – Lund (now discontinued), Gothenburg and Uppsala – have given an impetus to the academic interest in India.moneycontrol