Anti-BJP front on the menu at Sonia's opposition dinner meeting
New Delhi: Truce eluded the National Democratic Alliance (NDA) and a united opposition for the seventh consecutive day of the budget session on Tuesday with virtually no business being conducted in the disruption-hit Houses of Parliament.
Later in the day, former Congress president Sonia Gandhi hosted a dinner meeting for opposition parties at her official residence to strengthen its strategy against the Bharatiya Janata Party (BJP)-led ruling alliance. The dinner was attended by leaders of 19 political parties, making it one of the biggest anti-BJP gathering of leaders of the past few months.
The leaders included Sharad Pawar, chief of Nationalist Congress Party; Jitan Ram Manjhi, chief of Hindustan Awam Morcha who recently quit NDA ; Kanimozhi of Dravida Munnetra Kazhagam; Tejashwi Yadav, former deputy Bihar chief minister and Rashtriya Janata Dal leader; Babulal Marandi, former Jharkhand chief minister and leaders from Left parties.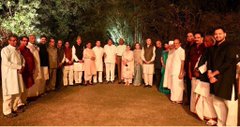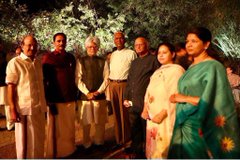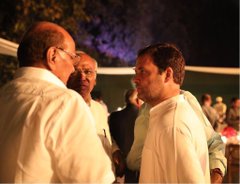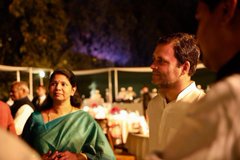 Those conspicuous by their absence included Bahujan Samaj Party chief Mayawati, Trinamool Congress chief and West Bengal C M Mamata Banerjee and Samajwadi Party chief Akhilesh Yadav. However, all three were represented by senior party leaders. According to a person with knowledge of the event, although it was more of an "informal meeting", the opposition's future strategy both inside and outside Parliament was discussed.
"This dinner is for harmony and friendship. Congress is of the opinion that where the government builds walls, we will build harmony and ways of walking together. This dinner is not for politics, but it is natural that when government is taking no interest in running the government then all the opposition leaders who when they meet will discuss politics as well as discuss issues of national interest," Randeep Surjewala, Congress chief spokesperson told reporters after the dinner.
In Parliament, the immediate casualty of the deadlock was the Finance Bill, 2018 which was listed for consideration and passage on Tuesday. It could not be taken up amid objections raised by opposition parties who have written to Lok Sabha speaker Sumitra Mahajan requesting her intervention.
In the letter, opposition parties have pointed out that there was no discussion on tabling the Finance Bill during the Business Advisory Committee (BAC) meeting and that the government had listed the bill without informing any political party in advance.
The tussle started on the issue of the public sector bank frauds when the second half of budget session began on 5 March. Both the government and the Congress party blamed each other for the non-functioning of the Parliament.
ALSO READ: Rahul Gandhi needs allies, and a lot of them
At a parliamentary party meeting of the BJP on Tuesday, senior leaders blamed Congress party for not allowing discussion and debate in the House.
"Congress continues to have a repressive mindset toward democracy. The Congress is not letting Parliament function. This is our duty to let it work and the government has been doing everything to ensure that it happens," said Ananth Kumar, parliamentary affairs minister. Kumar alleged that Congress was running away from a debate.
Mallikarjun Kharge, leader of the Congress party in Lok Sabha, said, "They are making excuses so as to avoid the discussion on crucial issues in House…This is a blot on democracy, you run away from discussions and then you say opposition parties are not ready for discussions. If we were not interested in discussions, we would not have given adjournment motions."livemint